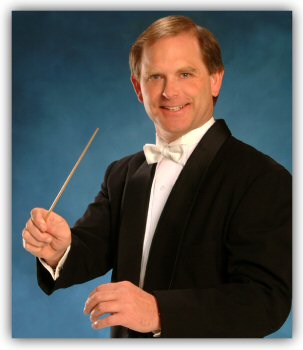 Musical Director
Dr. Thomas Connors
Dr. Thomas Connors began a new era of musical excellence in Westfield, having picked up the baton as Maestro of the Westfield Community Band in 2004. Following a rich history of Westfield bandmasters, he is excited to step up to the challenge.
Dr, Connors serves as Director of Instrumental Music Studies and is an Assistant Professor of Music Education at Kean University, a post he has held for the past five years. He also serves as Musical Director and Conductor for Kean University's Theater department productions. Previously, he was the Assistant Director of Bands at Kent State University.
A husband and father with four children, Dr. Connors is a resident of Washington, New Jersey. His principal instrument is the percussion and he holds a M.M. in Conducting and Wind Literature from the New England Conservatory and a Ph.D. in Music Education at Florida State University. He is a member of the New Jersey Music Educator's Association and is an active guest conductor and adjudicator.
Dr. Connors learned of the opening from members he has performed with in other ensembles. Dr. Connors' noted the appeal of working with this group is the dedication of it's performers, "members of this band are coming off planes from business trips, trains from the city and balancing the needs of their job and family, yet they choose to come to rehearsal every week for their love of music".
By taking this dedication and talent, Dr. Connors' hopes to, "continue to challenge the band both musically and intellectually and to stretch the ears of its musicians and audience members in the music we perform."