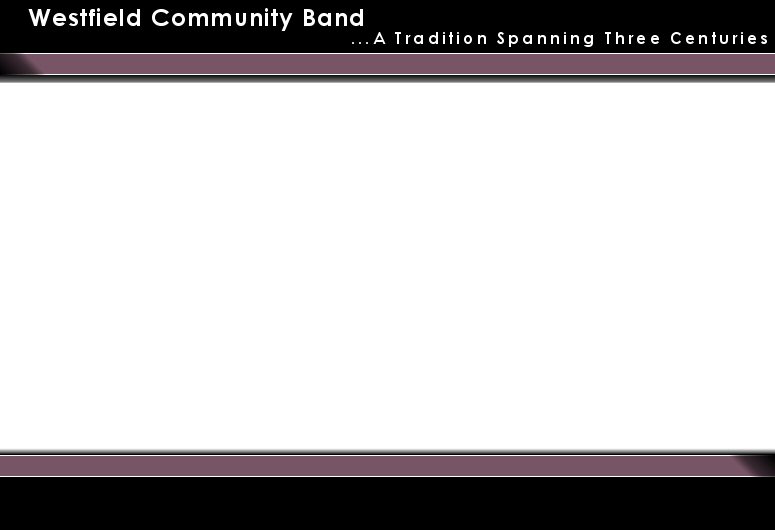 | | | | | |
Memorial Eve Concert, Summer Concert Series and Fall Concert Highlight Band's 107th Season
Westfield, NJ. - The band presented its annual Spring Concert at Edison Intermediate School in Westfield on April 4, 2019. The band's performance on May 26, 2019 for the Scotch Plains-Fanwood Tribute to Fallen Heroes for Memorial Day was cancelled due to weather. However, the band appeared in the Westfield and Scotch Plains-Fanwood Memorial Day Parades on May 27, 2019.

The band continued its 2019 concert season with its annual Summer Concert Series in Mindowaskin Park in Westfield, which featured performances by vocalists Kerry Stubbs (July 4th) and Karen Hauge (July 11). Both Mr. Stubbs and Ms. Hauge are music educators with the Elizabeth and Westfield public schools, respectively.

Completing its 2019 Concert Season, the band presented its annual Fall Concert in November 2019 and it 29th annual Holiday Concert, with features guests, the Broadway Singers from Edison Intermediate School in Westfield, in mid December, 2019.

All of the band's concerts are free to the public.

The band encourages experienced area musicians to consider joining the band, which rehearses each Wednesday evening from 7:30 to 9:30 p.m. in the Community Room of the Westfield Municipal Building, 425 East Broad Street, Westfield. For further information, please contact the band at info@westfieldcommunityband.com or contact band president Barry Rosenberg at 732-356-9400.

The Westfield Community Band is sponsored in part by the Westfield Recreation Department, Don Bogardus, Director.

ALL BAND REHEARSALS AND PERFORMANCES ARE SUSPENDED DUE TO COVID 19 EMERGENCY. BAND REHEARSALS AND PERFORMANCES WILL RESUME WHEN CONDITIONS ALLOW. THANK YOU FOR YOUR UNDERSTANDING.