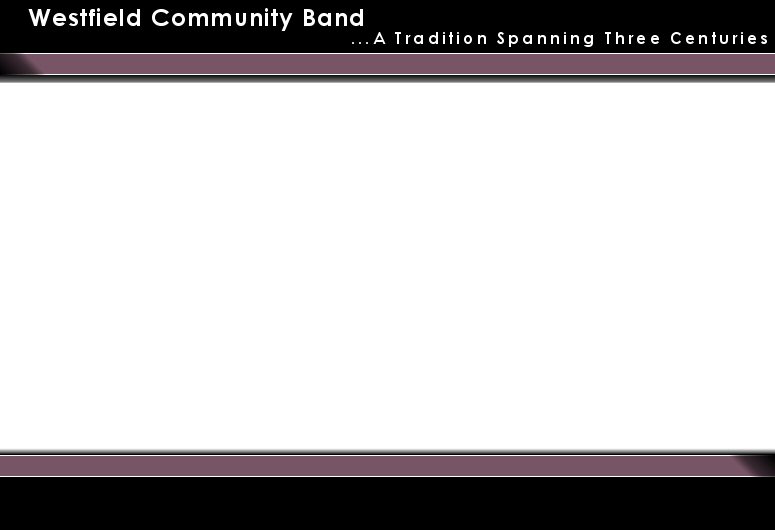 | | | | | |
Band Performs 31st Annual Holiday Concert
Westfield, NJ. - The band will present its 31st annual Holiday Concert, featuring the Edison Intermediate School Broadway Singers, on Thursday, December 9, 2021 at 7:30 p.m. at the Edison Intermediate School auditorium. The band will perform many traditional and popular holiday selections, including "The Most Wonderful Time of the Year", "Sleigh Ride", "March of the Toys (Wooden Soldiers)", and a special performance of "Twas the Night Before Christmas", narrated by vocalist Kerry Stubbs. Masks and social distancing will be observed.

The band will continued into its 2022 concert season (the band's 110th season) with its annual Summer Concert Series in June and July, 2022, conditions permitting. The band suspended its regular weekly rehearsal and all performances on March 12, 2020, due to the Covid 19 pandemic. Since that time, band members participated in periodic virtual meetings and members of the band's woodwind section created several virtual performances under the guidance of band member Joseph DeRosa.

The band's return to Mindowaskin Park in 2021 for its summer concert is another example of the band's perseverance and longevity: The band had also experienced and overcame both the end of World War I and the Spanish Flu pandemic in 1918 when it first appeared in the newly created Mindowaskin Park that year.

All of the band's concerts are free to the public.

The band encourages experienced area musicians to consider joining the band, which rehearses each Wednesday evening from 7:30 to 9:30 p.m. in the Community Room of the Westfield Municipal Building, 425 East Broad Street, Westfield. For further information, please contact the band at info@westfieldcommunityband.com or contact band manager Barry Rosenberg at 732-356-9400.

The Westfield Community Band is sponsored in part by the Westfield Recreation Department, Don Bogardus, Director. This concert is also made possible by funds from the Union County Office of Cultural & Heritage Affairs, a partner of the New Jersey State Council on the Arts.