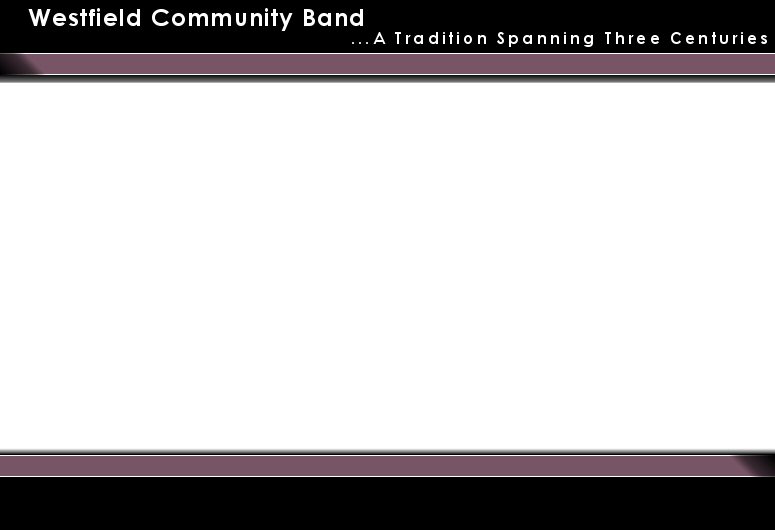 | | | | | |
Ridgewood Concert, Spring Concert, Memorial Eve Concert and Summer Concert Series Highlight Band's 103rd Season
Westfield, NJ. - The band is completing its 103rd concert season which included performances at Scotch Plains High School, Fanwood Train Station Park and a joint concert with the Ridgewood Concert Band in Ridgewood, New Jersey. The band also performed in the Westfield and Scotch Plains-Fanwood Memorial Day parades.

The band continued its 2015 concert season with its annual Summer Concert Series in Mindowaskin Park in Westfield, which featured appearances by baritone vocalist, Kerry Stubbs.

The band was featured at the annual "Fallen Heroes" Concert at the Fanwood Train Station Park on May 24, 2015, sponsored by the communities of Scotch Plains and Fanwood, New Jersey. The band also participated in both the Westfield and Scotch Plains-Fanwood Memorial Day Parades on May 25, 2015.

Completing its 2015 Concert Season, the band performed in its 25th anniversary Holiday Concert, with a special appearance by Maestro Elias Zareva conducting the band's performance of "White Christmas". Mr. Zareva served as the band's conductor and musical director from 1979 to 2004.

All of the band's concerts are free to the public.

The band encourages mature, experienced area musicians to consider joining the band, which rehearses each Wednesday evening from 7:30 to 9:30 p.m. in the Community Room of the Westfield Municipal Building, 425 East Broad Street, Westfield. For further information, please contact the band at info@westfieldcommunityband.com or contact band president Barry Rosenberg at 732-356-9400.

The Westfield Community Band is sponsored in part by the Westfield Recreation Department, Bruce Kaufman, Director.